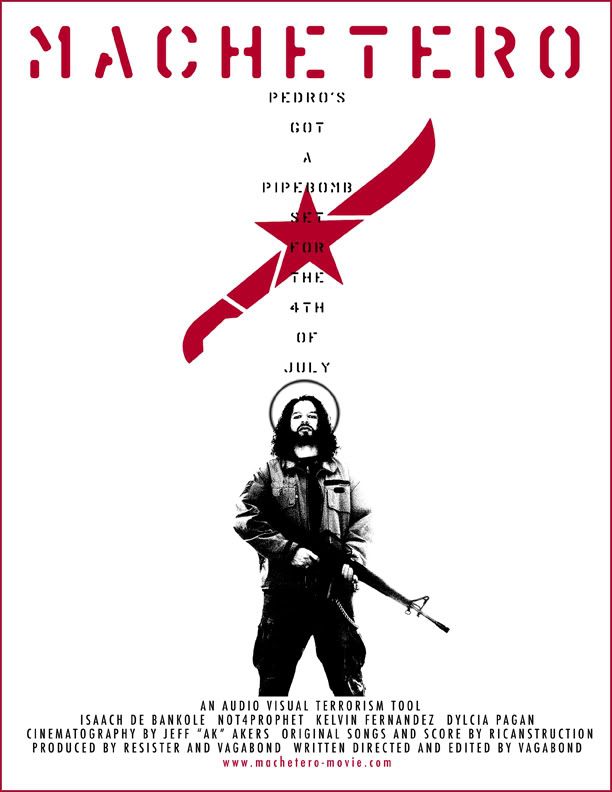 Los Angeles British FIlm Festival
MACHETERO
Wednesday, May 6th @ 10AM
Redondo Beach Performance Center
1935 Manhattan Beach Blvd.
Redondo Beach CA 90278
Click on the link below for a google map...
http://www.machetero-movie.com/MACHETERO/The_Machetero_Diaries/Entries/2009/4/25_LOS_ANGELES_SCREENING_4_6_%40_10AM.html
http://www.myspace.com/macheteromovie
The director and writer of the film, Vagabond is on a world tour with this powerful film entitled Machetero. He will be a guest on the show Radio RAC L.A. this Tuesday 4/28/09. The show airst from 9pm-12am on KillRadio.org. Tune In
Dylcia Pagan will be at the film Screening on May 6th and she will also be a guest on Radio RAC L.A. the following Tuesday, May 5th, 2009. She is a Puerto Rican poet, warrior, artist. She is a former political prisoner and prisoner of war.
She will do an intro and Q&A for the screening...
You can find a lot of info on her on her website...www.dylciapagan.com
MACHETERO
written and directed by vagabond
produced by resister and vagabond
starring Isaach de Bankolé, Not4Prophet, Kelvin Fernandez and Dylcia Pagan
original songs and score by RICANSTRUCTION
Post 9/11 definitions, ideas and notions of terrorism are challenged in this highly controversial and experimental film. Machetero is an allegorical narrative that follows French journalist Jean Dumont played by Isaach de Bankolé (The Keeper, Ghost Dog, Coffee and Cigarettes, Manderlay) to a New York prison where he interviews Pedro Taino a so called "Puerto Rican Terrorist" played by Not4Prophet (lead singer of the Puerto Punk band RICANSTRUCTION). Pedro is a self-described Machetero fighting to free Puerto Rico from the yoke of US colonialism. He is obsessed with freedom, freedom for his country, his people and for himself. Jean questions Pedro about his decisions to use violence as a means to achieve that freedom.
As Jean and Pedro speak, another story unfolds. A ghetto youth played by Kelvin Fernandez (in his first starring role) grows up in the ghetto streets and crosses paths with Pedro. Pedro reawakens a revolutionary spirit instilled in the ghetto youth from childhood by a mentor in Puerto Rico played by former Puerto Rican Prisoner of War Dylcia Pagan (who did 20 years in federal US prisons for her belief that Puerto Rico should be free). Pedro tries to provide the means for the ghetto youth to grow into the next generation of Machetero.
The film is structured around songs from the album, "Liberation Day" written and preformed by RICANSTRUCTION. The songs are interwoven into the film as a narrative voice and the band is utilized as a modern Greek chorus. RICANSTRUCTION also provides an original improvised score that moves from hardcore be-bop punk to layered, haunting and abstract Afro-Rican rhythms.